787 & 947 Counterbalance Oil Check
The 787 and 947 engines have a counterbalance oil reservoir that the oem Sea Doo manual says needs to be checked every 50 hours.
The 787 though has what I consider a poor design since there is no seal between the crank main bearing next to the cylinder and the crank counterbalance gear. Only a Labyrinth washer separates the counterbalance reservoir from the rear of the crankcase. In a short time after any oil is added, oil in the counterbalance area on a 787 will dissipate. I personally add oil whenever convenient to the reservoir to prolong gear and bearing life. Is it necessary? I'm sure people debate that but I know from my Mechanical Engineering background that meshing gears and bearings will last much longer in gear lube vs gas with a little oil in it. So add some oil if you happen to have access to the plug (if yours has one) but I wouldn't go to the trouble of taking things apart just for that. Also note that if you get water in the crankcase of a 787, it will also get into the counterbalance reservoir so you would need to remove the drain plug under the reservoir and get the water out. If not, your engine won't be around for long! (see the last picture below)
As for the 947 (951), the manual doesn't tell you how to check the counterbalance oil or how high the oil should be, but when I get that info, I'll add it!
Below you can see what plug or fitting needs to be removed to add oil to the reservoir.
The manual states the 787 & 787 RFI should have 30 mL (1 oz) SAE 30 motor oil in the reservoir.
The manual states the 947 & 947 DI should have 40 mL (1.35 oz) Jet Pump Synthetic Oil or standard gear oil in the reservoir.
(note that 1995-1996 787 don't have a check/fill plug. Oil is added when the engine is assembled and that's all you get)
In my opinion, on the 947 (951) just adding oil especially to low/old oil seems like a bad fix. The oil not only should be checked, but should be changed maybe every 200 hours. If you have your engine out, you might consider adding a fitting to the lowest point of the reservoir so oil can be drained.
I may work on a kit to offer for this one soon if demand warrants it!
787/787 RFI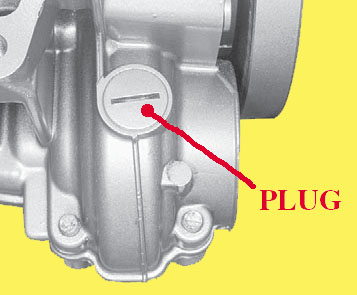 947 Carb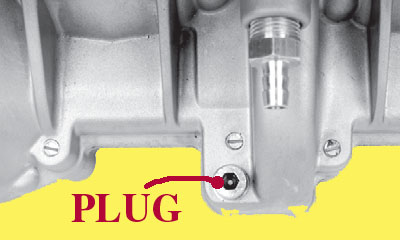 947 DI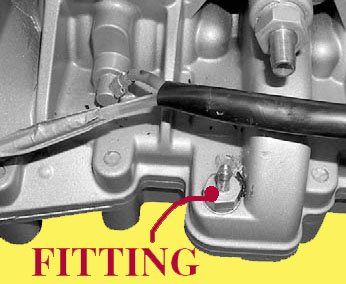 ---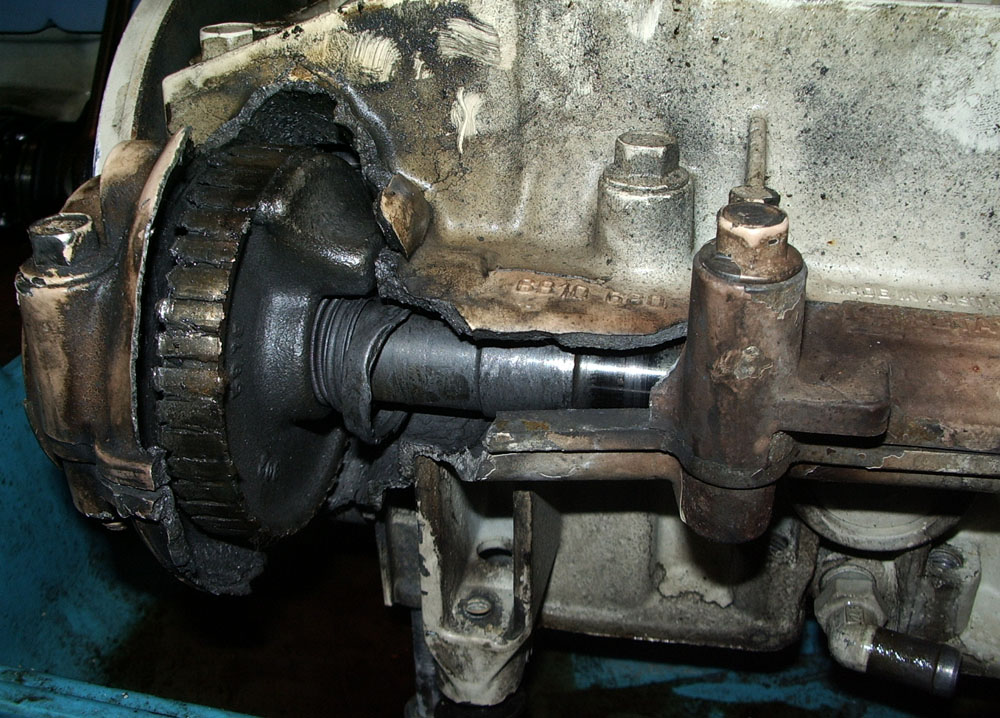 Counterbalance shaft failure probably due to water in the reservoir.
If the 787 had a separate reservoir, this wouldn't have happened!